LITTER PLANNED SPRING 2023
Kajsaligans Kommandusen & HighlanderAlfa Fortuna 
In February 2023 I will make a litter between Kajsaligans Kommandusen and Highlander Alfa Fortuna (Hugo). I am very exited for this litter! Komma's first litter is now 1,5 years old and I am very pleased with them. I kept one myself and I love her work ethics and her temperament.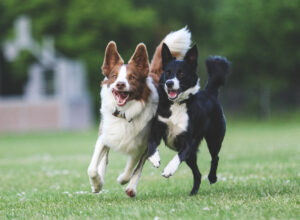 About Komma
Komma is after world champion in obedience Vallhunden Peak and an amazing herding dog Miderry's Kid. She's 4 years old and mainly work with obedience. In everyday life she's easy going, friendly to dogs and people and she likes children of all ages. She has no fear or reactivity and has never had any sounds sensitivity. I live in the middle of a large city and new years eve is crazy here, but thankfully Komma doesn't care at all. She's moderately social, loves the people she knows and is fairly uninterested in the rest.
In training Komma is very happy-go lucky. She's bouncy and happy and approaches every task with a positive attitude. She has a lot of energy and it can be a challenge to harness it in the heelwork. She prefers running exercises and is fast and well coordinated. In competition she's the same as in training and she doesn't get affected by pressure or a nervous handler. She started her first world championship in obedience in 2022 where she did really good. A lot of small mistakes due to her age but overall she did good and came in at number 46 in total, 3rd best danish dog on the national team.
Komma has absolutely no stiffness when working and very very little eye. She's always very loose and open.
About Hugo

Hugo is one of my all time favorite males. He has a wonderful temperament and is very friendly with all people and dogs. He likes children a lot, even though he is not raised with children. He has no reactivity or fear to environment or sounds. He's happy and goofy and at the age of 7 he still carries shoes around the house, and on occasion chew up a toy (or two).
In training Hugo is one of a kind. He always does his best and he LOVES to run. He os very open and loose in the way he moves and he can do exercises over and over again without ever loosing motivation or speed. He has an excellent work ethic and will do everything for his handler. He has a great focus and can handle a lot of pressure. Hugo has participated in 2 world championships and 2 nordic championships. His challenge in competitions is listening and being accurate, where sometimes his will to run and eager to work get's the best of him.
Hugo has no stiffness in working and almost no eye.
Hugo is after amazing sport lines. His father is Floss Granting Pleasure. Floss have competed in highest level of agility in US and also competed at WAO . His littler brother is Fetch Granting pleasure in whom many amazing agility dogs is after and who have won all there is to win.
After Floss we see the dog who won WAO 2 times and Westminster agility competion also. Perry dewitt's famous " Verb" they even got to do agility at a NFL game and winng US Open . https://youtu.be/MS6LnSbnEFI
Hugo's Mother is Mawlch Rose. She has competed at world championship in agility and the same have her litter brother Rufus and Rave and also sons and daughters after Rose, we see at WAO and EO in agility now. like Night magic Alfa Fortuna ( Beat) or Uno Alfa Fortuna – who f.ex won 7th place at AWC in Turku.
In obedience we see brother and sister to Hugo who compete in FCI3 . like Unique Alfa Fortuna "Niki" or Hiphop Alfa Fortuna "vip"
Why this combination?
Because Komma is moderately social and I know her lines can be moderately social, it's important for me to use a social and easy going male in breeding.
I prefer border collies that have a large drive in training, loves to play and are not too sensitive. To me sensitivity, reactivity and fear is a huge problem in the breed, so I am very selective about these traits when breeding.
I also prefer border collies who are not too stiff or have a lot of eye. To me a more loose type of border collie makes a lot of the obedience training more fun and less complicated.
I know Hugo very well and I know his offsprings very well. I really like his breeding and I believe he makes amazing puppies with will to please and a great work ethic.
What do I expect?
From this combination I expect border collies with excellent drive, that LOVE to run! They will be social, outgoing and they will love the work, no matter what work they are presented with. They will be fast and athletic and be really good partners for obedience, agility or other dog sports.
Health
Kajsaligans Kommandusen
Weight: 16,2 kg.
Hips: A
Elbows: 0
OCD: Free
Heart scan: Normal
My Dog DNA panel: normal on everything, EAOD carrier
Highlander Alfa Fortuna/Hugo
Weight: 21 kg.
Hips: A
Elbows: 0
OCD: Free
Back/spine: Normal
My Dog DNA panel: normal on everything